E-Farm Aquaponics Malaysia
11,000 Vegetables from the backyard of a 19-year-old Urban Farmer and his friends.
Firstly, Aquaponics is technically a great solution to all Aquarium Hobbyists out there who hates Nitrate and Water Change. Why? Plants as we know take Nitrate as a source of nutrients to grow. Other than underwater plants, Vegetables that loves water can be used to consume Nitrate in Aquarium water.
And this is Aquaponics, in summary, using fish waste as a source of nutrients to grow vegetables. Now try to imagine having zero Nitrate in an Aquarium; you technically do not need to do any water change to remove toxic (Ammonia, Nitrite, or Nitrate) in your Aquarium.
Aquaponics has been in my interest since I was about 15 years old where one of the key high school projects was a DIY Aquaponics system using whatever we can find in the Science Lab. Build one up and ace it with my partner! Since then, Aquaponics has never left my head till today and I am always fascinated to see other people's setup.
And one key Aquaponics system that caught my attention was this bunch of young farmers in Cheras Kuala Lumpur called E-Farm; an urban farmer. Following their Facebook Page, I get to see some pictures of them during the beginning of the period building up the greenhouse until they launch their Open Day.
I really can't wait to see the setup myself and get to know this young urban farmer doing Aquaponics. I did contact one of the young farmers in advance for their permission of course to visit and take pictures and videos. This is E-Farm Aquaponics Malaysia:
I met one of the Founder Mr. Sean Lee Juan Shen, a 19-year-old Uni Student who is friendly and highly enthusiastic to give us a tour around the setup and the overall business (a cool interview blog will be up soon). Imagine the opportunity to grow 11,000 vegetables in a 1,000 square foot greenhouse at someone's backyard. This is Sean Lee and his friends Aquaponics Business and cool setup!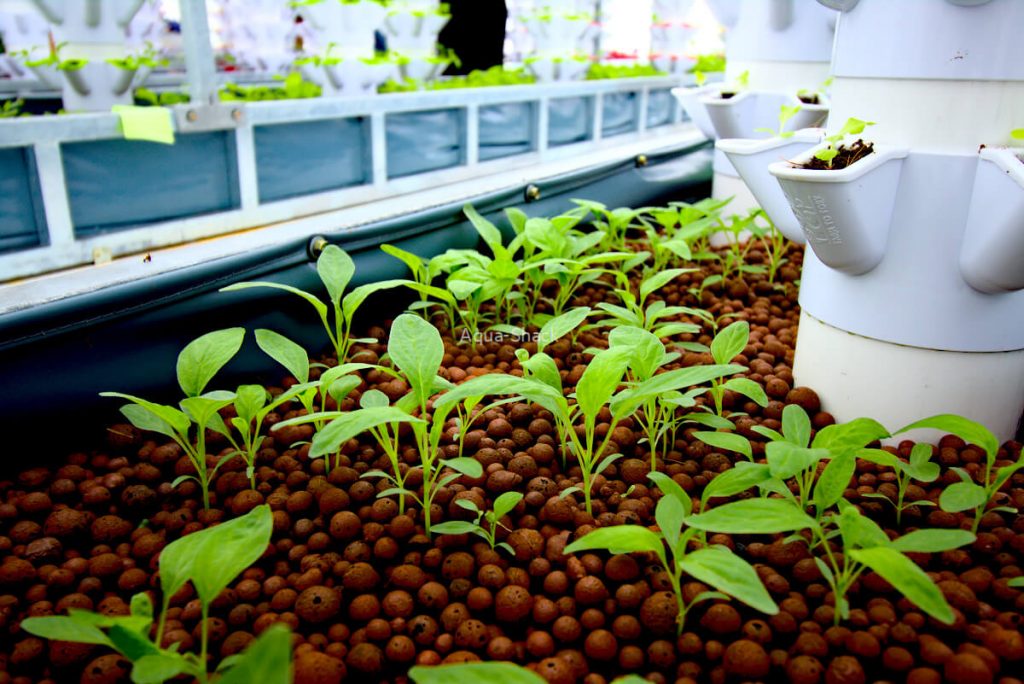 There are technically multiple methods to grow vegetables via the Aquaponics system. You could do a simple stretch of a long PVC pipe and arrange them row by row, or you could make it multi-story style with a long PVC pipe angled downwards to create a downstream flow back to the Aquarium. Or if you want to maximise every square foot available, you could do what Sean did: A trickle tower down to a bed or tray and flow back to the Aquarium or pond.
The 1,000 square foot Greenhouse has multiple aisles of Trickle Towers and beds; and the pond is as big as the greenhouse filling up with 1,000 Red Tilapia Fish. With this setup, Sean can generate a variety of Vegetables and 11,000 vegetables at one go; and at the same time, he can sell the Red Tilapia once they reach the adult and yummy stage. How Sean set up the tickle tower aisle is not only by category of vegetables but also strategically arrange so that every month, there are vegetables available to harvest and sell. Helping him and the business earning income every month all year round!
Sean is a knowledgeable and experienced Aquaponics Specialist who knows his stuff and has done really deep research before he start the project in this scale. And he is not planning to stop here, he has a bigger plans coming up too!
It is really fun to see Aquaponics in real life that is unique and in the same time maximising every space you can to give the best return possible. What I like as well is E-Farm did not just focus on one or two types of vegetables but they done multiple types of vegetables so the locals have choices!
The business concept that E-Farm focus is monthly subscription service that you can choose to get a certain Kilogram of vegetables every month to suit your house needs.
I would recommend for you to visit and check out E-Farms Aquaponics system if you are in KL and see for yourself on how cool Sean and his partners did.
I have also done a short interview with Sean to know more about him and the business side of E-Farm for you to learn and possibly inspire to start your own Aquaponics Project and Business. Follow my Facebook Page to keep up to date with our latest post. I will find more awesome Aquaponics projects in Malaysia and share more right here.
Check out the list of Vegetables E-Farm produces
We hope you enjoyed what we wrote and we wish you on a happy journey to owning a pet fish! It will be a rewarding feeling when you get it right the first time!
If you enjoyed this and find it useful or informative, please do share it with your friends and family who may find this useful for them as well. 
Follow us on Facebook and Instagram where we will post our latest news and articles of the Aquarium world with the latest advice and guides.
Need advice on Fish and Aquarium? Contact us on Facebook Messenger